Non-verbal communication involves the transmission of messages in a non-verbal way, through movement, facial expressions, gestures, body posture, distance between individuals, etc. Understanding this type of communication is very important, especially in the case of refugees who often cannot communicate verbally as they don't know the language of the host country.
Τhe aim of the local workshop was first of all for the young refugees to understand what non-verbal communication is and how it is used on a daily basis. At the same time to understand that depending on each culture the signals sent may have completely different meanings. To make this happen, an interactive workshop was created, so participants could directly make the link between theory and practice.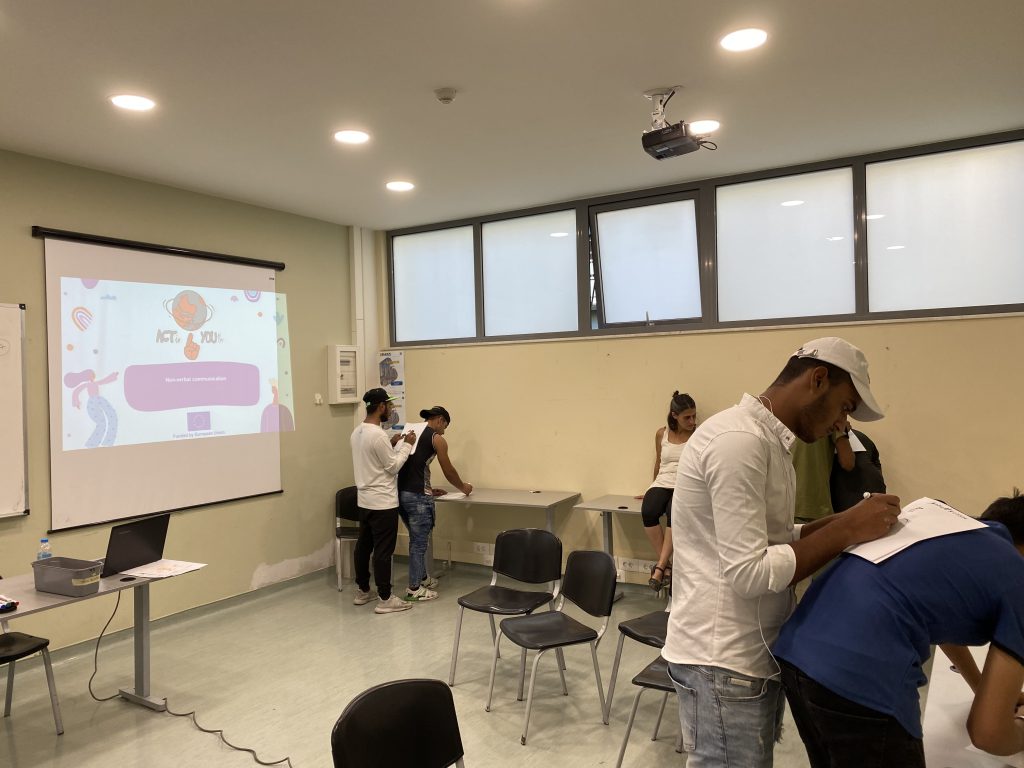 Then, they were asked to choose a card from a series of cards with icons and explain what prompted them to choose that card. In this way, the individuals felt more comfortable and the right conditions were created for the continuation of the workshop. After this activity, the main trainer provided the theoretical basis of non-verbal communication, presenting information and examples, so beneficiaries could understand the content. The next activity took the form of a pantomime. After being divided into groups of two, they were asked alternately to describe words to each other without speaking. The aim of the activity was to discover that on the one hand, it is often easy to communicate non-verbally, but on the other hand, there can be great difficulty and confusion. Τhe last activity was a painting challenge. Divided again into pairs, one was asked to draw with a piece of paper on the back of the other and the second to try to capture what he thinks his pair is drawing. It was a sensory exercise designed to show the difficulty of communication when it's based on sensation alone and there are no words or expressions.
Personally, I think that this workshop was very creative and effective while at the same time it encouraged the beneficiaries to cooperate, take initiatives, become creative and cultivate their critical thinking. Through an interactive process they came into contact with the concept of non-verbal communication and connected with the other participants, discovering new knowledge all together. Through experiential learning, the beneficiaries, as active participants of the workshop, were able to assimilate the new information, improve their relationship with each other, socialize, and cultivate their imagination and their self-confidence.
Elisavet Fertidi, Youth Worker and Local Workshop Facilitator